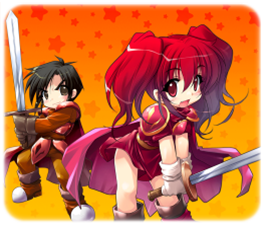 Fighters
are the brute force, close range combat specialists of Luna Online. Unlike
Rogues
, Fighters naturally have a large health pool and heavy armor. Although a Fighter is adept in a multitude of weaponry, a Fighter must choose to follow either of two paths early in his career.
Overview
Edit
What Fighters lack in magic, they make up in physical force. Although a Fighter is not gifted with the magic of a Mage or with the agility of a Rogue, he overcomes this through continued dedication to the mastery of weapons. A Fighter begins with a few simple skills, but they are enough to support him until he joins the ranks of the Warriors and Guards.
All new Fighters naturally begin with Boost Light Sword and Boost Heavy Sword. Although these skills are simple and effective during the early levels, a Fighter quickly gains access to more powerful abilities, such as Windy Slash and Crash Blow. To full maximize the abilities later in the Fighter's career, Fighters generally begin specializing in One-Handed Weapons or Two-Handed Weapons, along with the decision to further specialize into the Sword, Axe, or Mace.
At level 20, a Fighter may choose to hone his skills as a master of heavy, but devastating two-handed weapons and become a Warrior, or don a shield to protect him and his friends from any number of enemies as a Guard.
Equipment
Edit
Heavy Armor is ideal for Fighters, since it gives a bigger boost in def than other sets. Altough sometimes people prefer to go with Light Armor and sacrifice a little bit their def because there are some light sets with higher Dex, Crit rate and Str, which fits pretty nice for any Fighter.
the following is a list of the upgrade to the level cap of the following skills as well as the new skills obtained from this class:
Active Skill list
Edit
Passive Skills
Edit